Jamaica Blue Mountain Coffee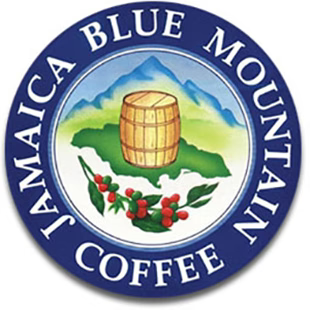 Jamaican Blue Mountain Coffee is 100% authentic and certified by the Jamaica Agricultural Commodities Regulatory Authority (JACRA).
We buy our Blue Mountain Coffee direct from the estates in Jamaica. Our strong relationship with our farmers ensures quality and authenticity. Each Jamaican Blue Mountain coffee has the authenticity seal assuring that your purchase is authentic. The supply of Jamaican Blue Mountain Coffee is limited, with a strong demand for this exotic crop.
Our Jamaican Blue Mountain Coffees are from different farms, including Clifton Mount Estate, Clydesdale, and Wallenford. We also offer a Peaberry variety, a souvenir gift barrel, and a more affordable Jamaica Blue Mountain Blend.
When you purchase Jamaican Blue Mountain coffee, you help continue to support local Jamaican coffee agriculture, along with the history and tradition ingrained within this beautiful country that continues to provide the most well-known and prestigious cups of coffee in the world.
Our Roasting Approach to Jamaican Blue Mountain
Our approach to roasting Jamaican Blue Mountain coffees is to bring out the best qualities within the cup. The flavors are rich and bountiful, and so we ensure not to over-roast any of our Jamaican Blue Mountain coffees so that you can still taste the provenance within the beans.
From the Clydesdale Estate to the Wallenford Estate, we roast the Jamaican Blue Mountains to a medium roast with love and care to bring out notes of brown sugar, star anise, and hints of cocoa, wrapped into a creamy sweetness that makes waking up to this cup of Jamaican coffee a unique and wonderful experience.
We make sure not to go too fast through the roast and to ensure that the Jamaican Blue Mountain beans have enough time to fully develop and pull out as much flavor as possible. It is a complex yet incredibly delicious cup of Jamaican coffee that we believe will keep you coming back for more to enjoy.
About Jamaican Blue Mountain Coffee
Coffee came to Jamaica in the 18th century when the Governor of Martinique gifted a coffee plant to the Governor of Jamaica, Sir Nicholas Lawes. From there, coffee production boomed and blossomed into a multigenerational infrastructure known the world over for the island's quality of cup and exotic locales.
Of course the most famous region within is the Blue Mountain region. Located 900-1,500 meters above sea level, Blue Mountain coffees are as coveted by the rest of the world as they are protected internally. Spanning a little over 20 miles, Jamaican Blue Mountain coffees are grown in the parishes of Portland, St. Thomas, St. Mary, and St. Andrew, which provides a rich preserve of fertile soil that lends itself to creating a unique, floral tone in Jamaican Blue Mountain coffees.
In order to protect the provenance of Jamaican Blue Mountain coffees, local Jamaican coffee farmers in the region in the 1950's formed a licensing agreement to help regulate the production and estates of coffee that came from the Blue Mountains. This allows the government-run Jamaican Coffee Industry Board and Jamaica Agricultural Commodities Regulatory Authority (JACRA) to tightly monitor, inspect, and promote the continuing quality of coffee that comes out of the Jamaican Blue Mountains to be beyond reproach.
Read more