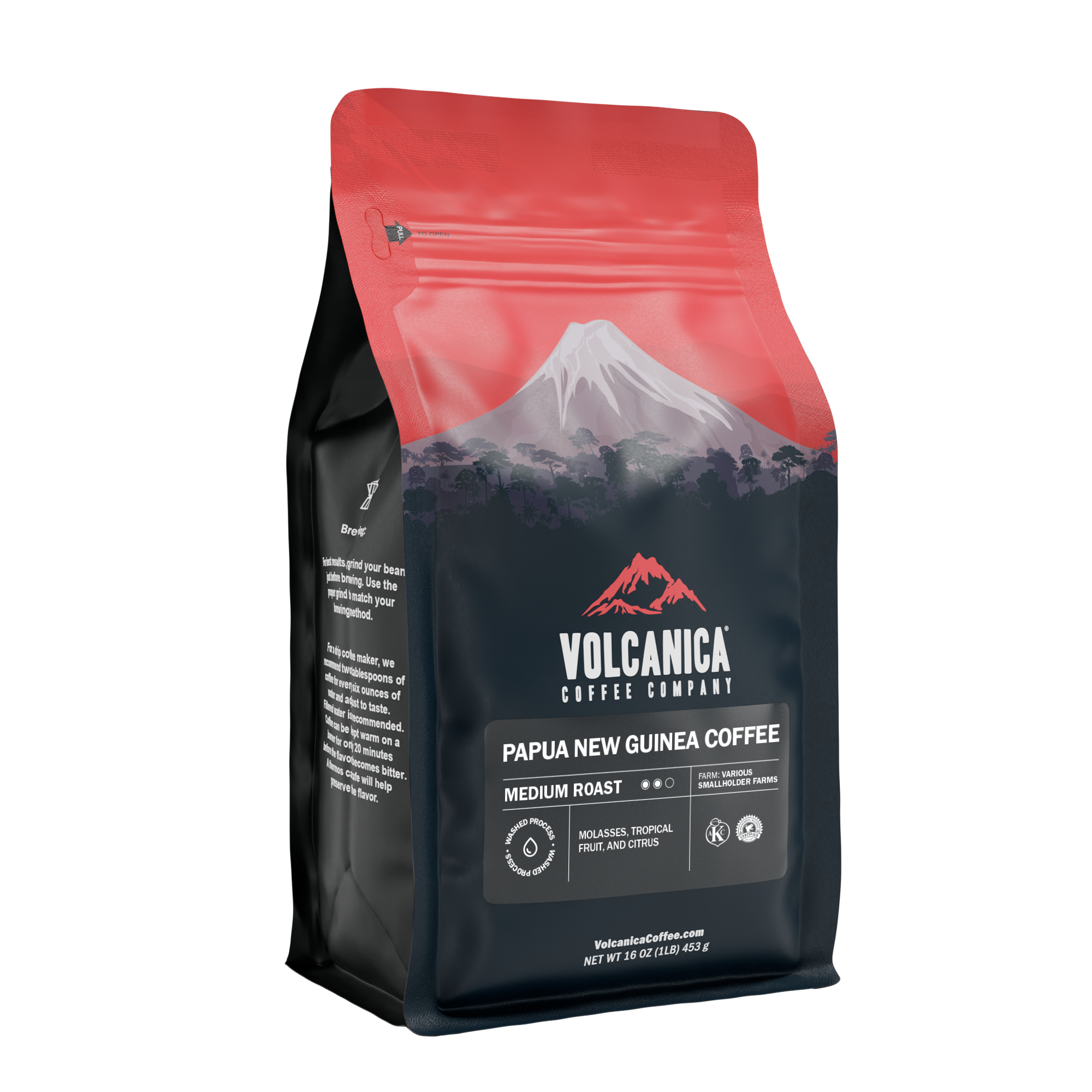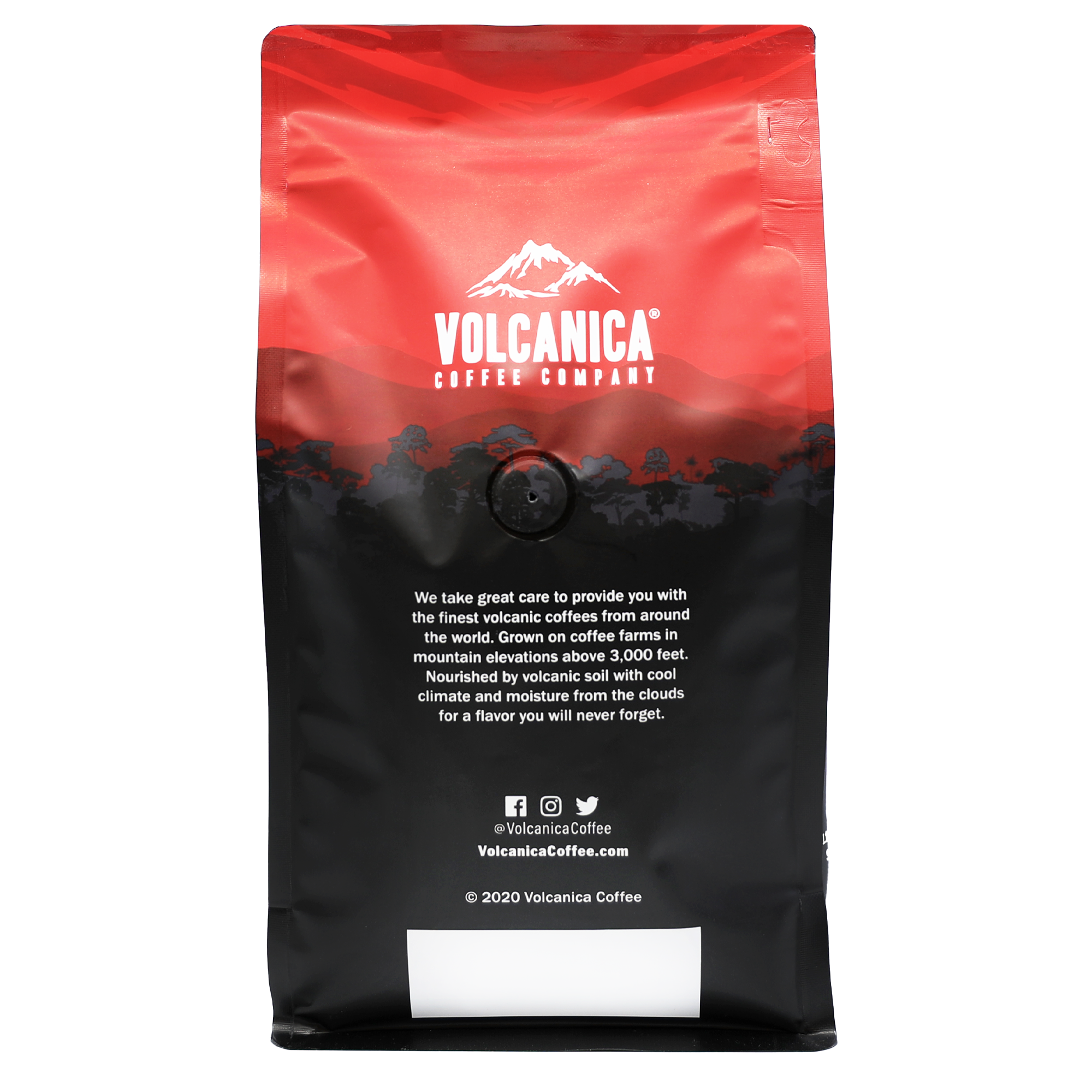 Regular price

$18.99

Sale price

$18.99

Unit price

per
Papua New Guinea Coffee is a sweet and tropical coffee. Papua New Guinea, often abbreviated PNG, occupies the eastern half of the island of New Guinea. The original seedlings were planted in 1927 from Jamaican Blue Mountain Coffee beans. The local conditions were very favorable to the Jamaican coffee beans, and produced a complete, complex cup that recalls the old Blue Mountain style. This fine coffee displays pungent mango and papaya fruitiness in aroma with a clean full-bodied flavor. Papua New Guinea Coffee is sweet and floral.
Certifications:
Fair Trade Certified
Kosher Certified
Flavor Notes: Molasses, Tropical Fruit, and Citrus
Processing: Washed Process
Roast: Medium Roast
Additional Information:
Farm: Various Smallholder Farms
pH: 4.9
Single Origin Coffee
Papua New Guinea Coffee History
In terms of coffee history, Papua New Guinea coffee is a bit nascent compared to other established coffee growing regions. But don't be fooled; Papua New Guinea coffee presents some of the most complex and interesting flavor notes seen in the coffee world. Unfortunately, there is no documentation to explain how coffee arrived in Papua New Guinea.
Most sources indicate that coffee was first planted on the island of Papua New Guinea in the late 1890's. However, coffee did not take off quite as quickly as other countries and production did not reach commercial levels for quite some time going into the 20th-century. By 1926, 18 estates in Papua New Guinea were established by sourcing coffee seeds from renowned estates in the Jamaica Blue Mountain region, and within the decade coffee exportation took a prominent foothold in the country's economic production.
Papua New Guinea coffee growing really took off in the 1950's when government infrastructure began to facilitate the improvement and capability of small-holder farmers all throughout the country to bring better and better coffee to the market. As the decades went by, Papua New Guinea's coffees improved and today 95% of producers in the country are small-holder coffee farmers that grow primarily arabica varietals, as well as a small amount of robusta and liberica.
Where We Source Our Papua New Guinea Coffee
Due to a large percentage of farmers in Papua New Guinea not having access to post-harvest processing facilities to de-pulp, wash, and bag their coffee for commercial consumption, much of the exact traceability is lost in the translation from farm to washing station to export/import to roaster to you.
However, we do source our Papua New Guinea coffee from the Western Highlands region that is grown near the capital of Mount Hagen, which took its namesake from an inactive volcano in the area that provides fertile soil to give the coffee beans extra nutrients and an incredible flavor profile.
Our Papua New Guinea coffee comes from the Wahgi Valley of the Western Highlands, located 1,000 to 1,800 meters high, that primarily grows arabica varietals in the range of bourbon, typica, and arusha. The high mountainous region of this Papua New Guinea coffee offers many complex and nuanced flavors that are highlighted by the terroir that is naturally equipped to provide some of the most unique cups of coffee in the world.
Papua New Guinea Coffee Taste Profile
Our Papua New Guinea coffee is roasted to a full city roast profile that brings out a delicate yet robust body swimming in rich raisin notes with a sweet guava finish that pairs well with any morning coffee rush, though we particularly enjoy it with almond croissants and blueberry muffins.
Perhaps the first thing you will notice is the floral aromas of the Papua New Guinea coffee that are breathtakingly sublime that leads to a buttery sweetness that is astonishingly complex in sensorial nuances. Papua New Guinea coffee continues to present a delightfully intriguing cup that we're certain you'll enjoy as much as we have.