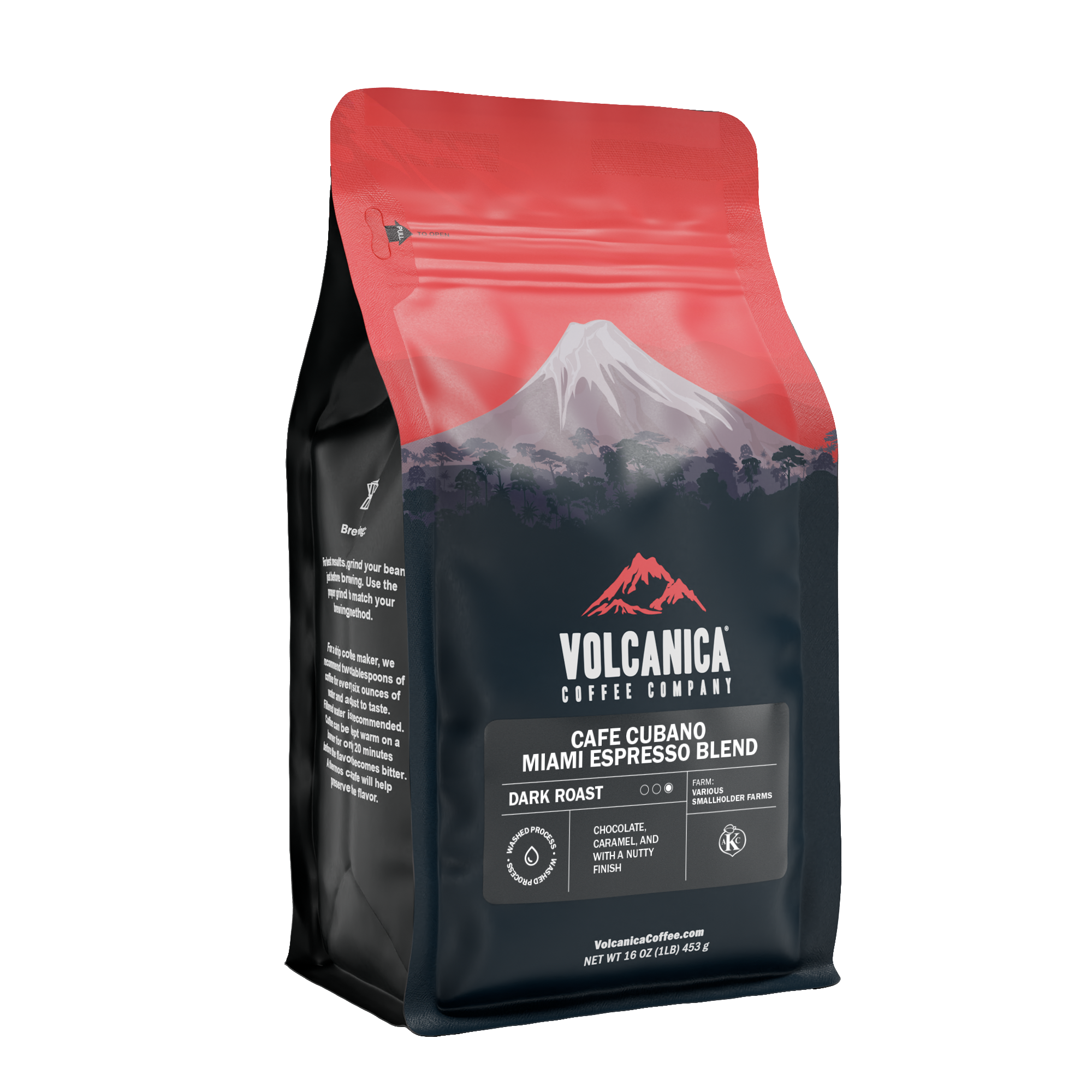 Cafe Cubano - Cuban Coffee - Miami Espresso
Regular price

$18.99

Sale price

$16.99

Unit price

per
Cafe Cubano is the traditional Cuban Coffee espresso blend inspired by the Cuban culture. This blend was specially formulated like the same Cuban Coffee that you find in the cafes throughout Miami, Florida. This blend of Brazil, Colombia, and Guatemala is a strong and robust dark-roasted espresso that is a true crowd-pleaser for the bold-minded. So authentic that several Cuban cafes serve our Cafe Cubano to their customers. Rated a low acid coffee due to the lower acidity.
Certifications: Kosher Certified
Flavor Notes: chocolate, caramel, and with a nutty finish
Processing: Washed Process
Roast: Dark Roast
pH: 5.1 Low Acid Coffee


Cuban Espresso Recipes
Cuban Coffee or Cafecito
Ingredients: Espresso and Sugar (either brown or white, though brown will make more of a molasses, syrupy espresso with a thicker sugar foam)
Usually a near 1:1 ratio of sugar to espresso, Cuban espresso can be modified to your tastes depending on how sweet you like
Most Cuban Coffee espressos are anywhere from 15-19 grams of coffee, and approximately 1-2 tablespoons of sugar
Cafe Con Leche
Ingredients: Cuban espresso, milk, sugar
The ratio is typically 1:3 of coffee to milk, but it can be modified to fit individual preferences and taste
Because Cuban Coffee espresso is usually much stronger than most Western espressos, it's recommended to use about 1 to 2 tablespoons of sugar, though more can always be added
Cortadito
Ingredients: Cuban espresso, milk, sugar
Similar to Cafe Con Leche, but with less milk. A little more than a traditional Italian macchiato but definitely less than Cafe Con Leche or a Cafe Latte
Whereas most Cafe Con Leches are about 12oz, with the Cortadito, there's approximately 4oz less milk, giving it a more coffee-heavy flavor profile
About Cuban Coffee (café cubano)
Cuba and espresso go hand-in-hand. Cafe Cubano has been a staple of the island since the introduction of the crop back in the 18th century, when coffee once rivaled sugar as the most popular cash crop of the country by the mid-19th century.
It wasn't all that surprising that coffee developed such an important role within Cuba's agricultural history. During the Haitian Revolution of the 1790's led to many French immigrants fleeing the upheaval to find a new home in Cuba, bringing along their favorite morning beverage.
But it wasn't until the advent of the 20th-century and the widespread use of the Moka Pot that led to the café Cubano that we know and love. While Cuba became one of the top producers and exporters of coffee by the 1940s, exporting over 60,000 tons of coffee throughout the year, the Cuban Revolution of the 1950's that saw the nationalization of most everything, including crops such as coffee, also saw the decline of coffee production for the decades to come.
Another byproduct, though, of the Cuban Revolution was the unprecedented and historical immigration of many Cuban residents, nearly a quarter million, to come to the United States. And just as the French that immigrated from Haiti to Cuba over a century before, Cubans brought along their beautiful culture and traditions, including their wonderful coffee.
What makes café Cubano so unique and a culinary staple of Cuban coffee culture is how it has been prepared from one generation to the next with such precision and care that transforms the coffee into something wholly different, sweet, and decadent. Traditionally still made in a moka pot on the stove, café Cubano differentiates itself from other forms of espresso by being made with demerara sugar that is mixed with a spoon as the espresso shot is pulled, creating a pliant, viscous foam of crema that is sweeter than most other forms of espresso coffee.
About Our Cafe Cubano
We've carefully curated a blend of ethically sourced and delicious Central and South American coffees to create a unique Cuban coffee that we know you'll love. The roast profile we crafted was specifically intended to be paired with demerara sugar for a wonderful Cafe Cubano and can be used to make any number of traditional Cuban coffees.
The coffees we chose for our Cafe Cubano lend themselves to the rich texture of any espresso, with a velvet body that decadently accentuates any ingredient you add to it. With a bold, rich flavor profile with notes of bitter dark chocolate and macadamia nuts, our Cafe Cubano was roasted to ensure the body of this Cuban coffee would not be lost in any cream or sugar but rather metamorph into a wonderfully delicious cup.
The key component that went into creating our Cafe Cubano was paying tribute to the rich and wonderful tradition of coffee magic of Cuba that we've been lucky enough to experience. It is our humble wish to continue this tradition by offering this freshly roasted blend of exquisite coffee from our home to yours.