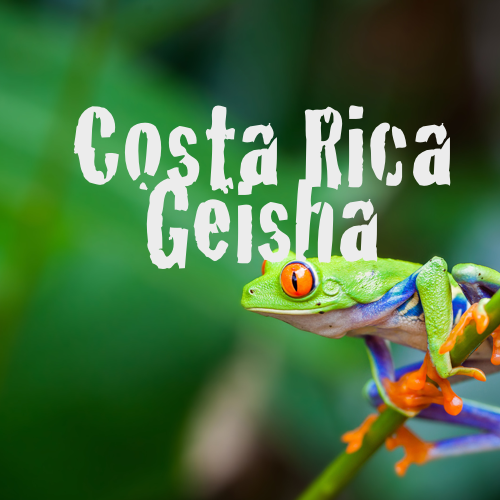 Costa Rica Geisha Coffee, Natural Process
Regular price

$59.99

Sale price

$49.99

Unit price

per
The Costa Rica Geisha Coffee is a scarce and ancient coffee of wild Ethiopian origin. This coffee is unique in that it contains 30% less caffeine than most other coffees while continuing to retain the sweet, citric, apple, and floral flavors that make it so wonderfully popular.
La Candelilla Farm in Costa Rica, ensuring the purest and most authentic experience for our consumers. By partnering with this pioneering micromill, we uphold stringent quality and ethical standards, guaranteeing not just a cup of coffee, but a sip of history and tradition with every brew.
Flavor Notes: Sweet, Citric, Apple, and Floral Flavors

Processing: Natural Process

Roast:

Medium/Light Roast



Additional Information:
Farm: Finca La

Candelilla

Microlot
Natural Process: What is the natural process? Ripe cherries are sun-dried on raised beds for 8-12 days, depending on climatic conditions. During this time, they are handpicked, sorted, and raked to ensure a consistent drying process. This process results in a sweeter more floral flavor. After drying, the coffee is milled.
pH: 5.0
Single Origin Coffee
Costa Rica Geisha Coffee History and Processing:
Costa Rica Geisha is a very unique type of coffee with several distinguishing properties that make it special. The term Geisha comes from the Ethiopian town of Gesha, where the coffee plant originated. Geisha Coffee is different in appearance, it is naturally resistant to some diseases and the beans are long and slender. The crop yield of this type of Coffee plant is meager, which is why it is so difficult to find commercial plantations and production of this coffee.
There are different varieties of Geisha Coffee since they are the plant seedlings from the original plant in Ethiopia that have been exported. Geisha Coffee varieties can be found in Ethiopia, Tanzania, Costa Rica, Panama, Colombia, and Peru. While many factors influence how plants grow and the fruit they bear may develop, the local coffee plantations give each crop a unique characteristic and flavor. The taste of Geisha Coffee from Costa Rica can be described as having a soft and delicate profile with quietly complex aromatics that consist of flowering grass, lavender, a crisp rather vegetal cocoa, hints of molasses, and pipe tobacco.